Ciao 🙂
Do you like CC or color correction creams? Keep reading because with this you will either find a reason to love them even more or to start loving them. : D

For me, these creams are great when I have time and will before going out, after preparing the little ones or for, ok let's go, I don't care or two minutes of make up, cc cream, mascara and gloss/lipstick.
The cream comes in a solid plastic bottle with a pump, which is good for dosing (when you realize that half a squeeze is enough for your whole face).
The scent is light, fresh, almost imperceptible on the skin. If you're afraid of the smell of immortelle, I don't think that's going to be a problem for you here at all.
It can be found in two shades, LIGHT and MEDIUM. I have LIGHT.
At first, it seemed too dark on my hand, so when I started smearing it on my face then too bright ….. and then the surprise when it smears and absorbs well, the color changes completely, adjusts to the complexion and becomes imperceptible.
Covering, as it is a cc cream, is good for me (I don't have major problems such as acne, scars …). Smoothes the complexion, soothes dark circles and redness. It somehow refreshes the whole look, gives a healthy glow to the skin.
I used it on its own, with loose powder and as a base for liquid powder. In all, the combination is good, it is up to you to choose how to use it, depending on the result you currently want to achieve.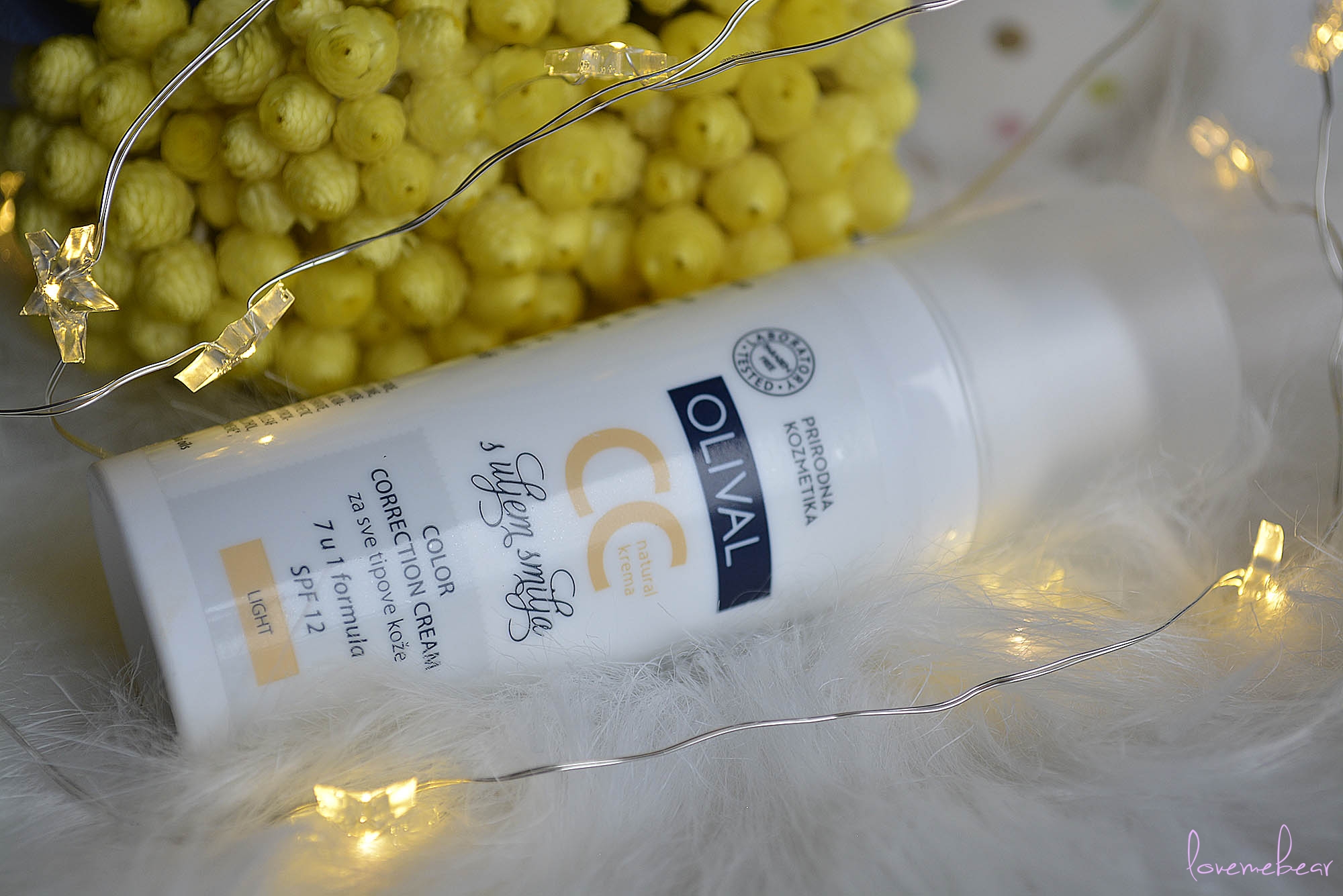 I like the natural look and shine it gives when used alone. So I use it the most myself. It doesn't have the weight and appearance of a mask that can leave powder on the face, and yet the complexion is even and visibly better.
What I really like about this cream is a couple of things that don't work. 🙂

Does not emphasize dry parts, wrinkles, does not oxidize. I don't need to put another cream before it because the hydration it provides is enough for me.
Its durability is good. It lasts, so it looks good all day and when it's on the skin longer.
The cream states that it is intended for all skin types. Mine is dry and this cream suits it perfectly, nourishes well, hydrates and when I use it alone, there is no sign of tightness and dryness.
I'm just wondering how it suits those who don't have dry skin. Are you among them? Have you tried it? Write to me. 🙂

I have not had any harmful side effects from this cream. In fact, since I've been using it, my skin seems to look better. My skin and immortelle really love each other.
I really like the texture, it is creamy, it spreads easily. It is not heavy and greasy.
It has SPF 12.
7 in 1 formula.
Smoothes the complexion, nourishes and protects from external influences, covers redness of the skin, hydrates the skin, gives the skin a natural look, strong ANTI AGE effect.
In the stone and karst from the Littoral to Dalmatia, in late spring, grow millions of yellow immortelle flowers, modest and sublime! They did not call it immortelle in vain, immortal. Through the lush bloom on the dry karst, immortelle gave vitality to Dalmatian homes and timeless beauty to the skin of generations of women.
Ingredients:
Aqua, Caprylic/Capric Triglyceride, Iron Oxides, Cyclopentasiloxanem, Dimenthicom Disodium Stearoyl Glutamate, Aluminium Hydroxide, Sesamum Indicum Oil, Cera Alba, Lanolin, Macadamia Nut Oil, Polyglyceryl-2 Dipolyhidroxystearate, Oenothera Biennis Oil, Hydoxide, Helychrisum Italicum Oil, Aloe Barbadensis Leaf Juice, Tocopherol Acetate, Biotin, Benzyl Alcohol, Salicylic Acid, Glycerin, Sorbic Acid, Limonene, Linalool
Not tested on animals.
Price 50 ml – 79,90 kn.

Do you like cc creams? Have you tried this one too? Can you recommend another natural bb / cc cream?

Do you like Olival cosmetics? Participate in DARIVANJU , you can win a package in which there is also Olival Micellar solution 2 in 1 with immortelle oil.

* PR product